Your business absolutely must have a website, no matter the industry you're in. So why do you need a website for your business? This statistic might help you understand why:
of people go online to find & research a local business!
A professionally designed website can increase your ability to capture leads, sales, and add credibility to your offline business. Surveys show that many business owners don't have the skills, the time, or the money to build a business website. But a surprising number shows that they also believe that their business doesn't need a website, either because it's not required, or because they use social media instead. Regardless of how great your Facebook page or other social media is, your business needs a site. It's the hub of your online presence where potential customers can go to get all the information they need about your business. Have you ever searched on Google for a business only to come up empty-handed? Did you turn to a competitor instead? THAT is why you need a website. Or how about this – Everyone remembers Myspace, right? How it was a big thing? And now? It's gone. Yes… that could happen to Facebook too. And then where would you be?
If your business is not on the internet, then your business will be out of business.
Bill Gates, Co-founder of Microsoft Corporation
Here are the top 10 reasons why your business needs a website: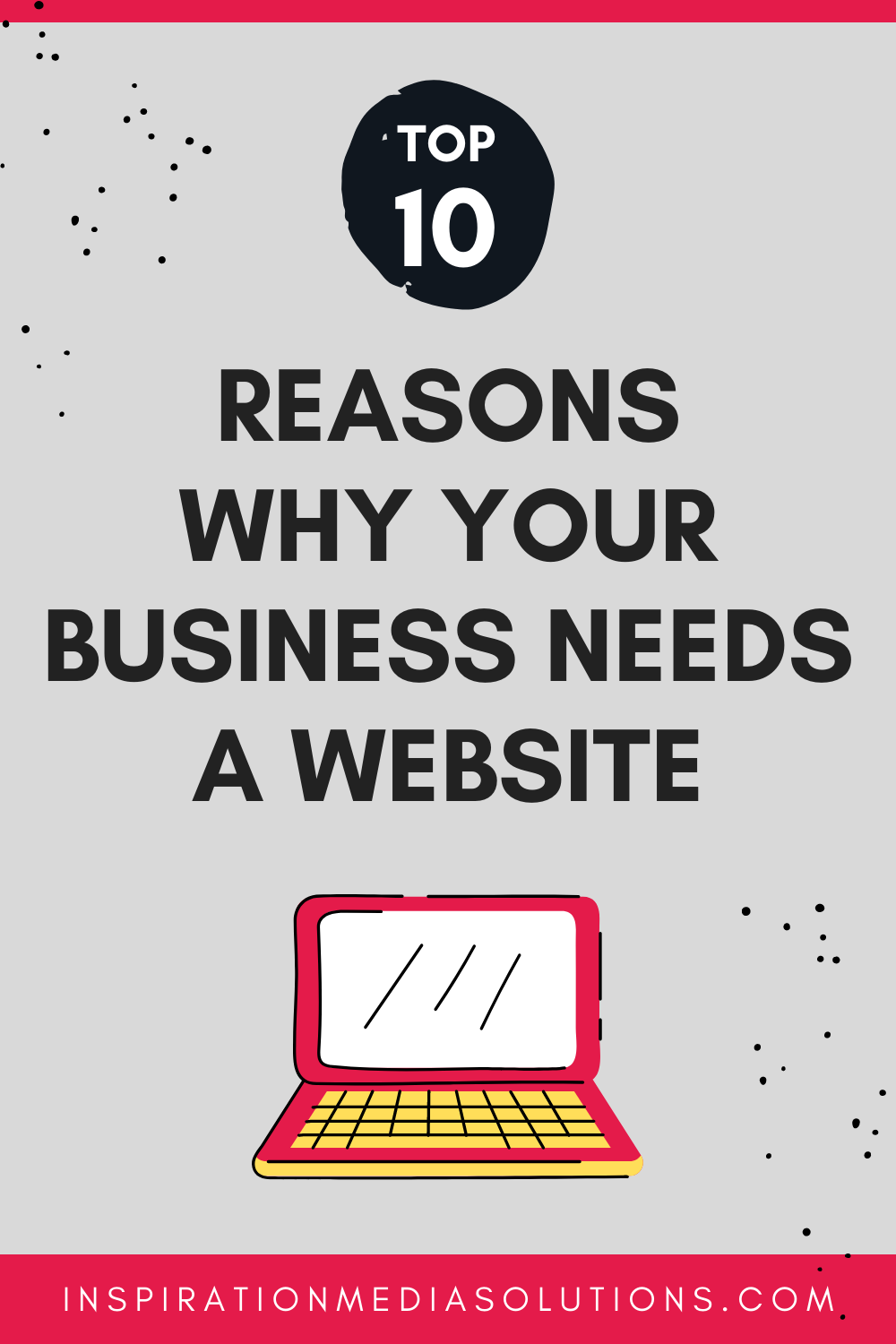 A website makes you and your brand look professional. In addition, it will help you meet your current and potential customers expectations.
A well-optimized website can attract new customers through Google.
A well-designed site will clearly showcase your products and services and answers questions customers and potential customers may have.
Display your best reviews and testimonials prominently on your website. Many customers consider reviews prior to working with, or making purchases from, a business.
A site can encourage customers to contact you via call-to-actions and contact forms.
Having a website establishes your place in the industry, especially when competitors don't have one, or worse, have an unhelpful or bad user-experience.
Websites no longer break the bank! Inspiration Media Solutions offers high-quality web design at prices that small businesses can afford!
Have a business website ensures your success in the long-term. Without a website your business may be invisible to the thousands of people searching for your products and services!
Your website is open 24 hours a day.

This means that even when your staff is not available to interact with people looking to do business with you, your website is accessible and able to provide helpful information

It allows you to hone your company's brand and image. It is the place to shape the narrative around your company, whereas social media pages may be shaped by public input.
Hopefully by now you've realized the importance of having a website for your business. But you may be asking yourself if you can afford one or if you are able to maintain one. The answer is YES! Inspiration Media Solutions offers afforable website solutions, and we help write website copy, can take photos or video for use on the site, and will maintain the back end of the site, all for one low monthly rate!
If you're ready to get started, contact us today!